Nieuw geneesmiddel = nieuwe site

Omega Pharma is een grote speler in de Belgische farmaceutische sector en had met het nieuwe geneesmiddel NiQuitin® - dat helpt bij het stoppen met roken - natuurlijk ook een productsite nodig.

We maakten al eerder productsites voor Omega Pharma en waren dan ook zeer vereerd dat ze opnieuw bij ons aanklopten om de NiQuitin® website te ontwikkelen. Een merk als als deze moet de juiste uitstraling hebben en het vertrouwen krijgen van de consument.

Een productsite of een ander webproject voor jou?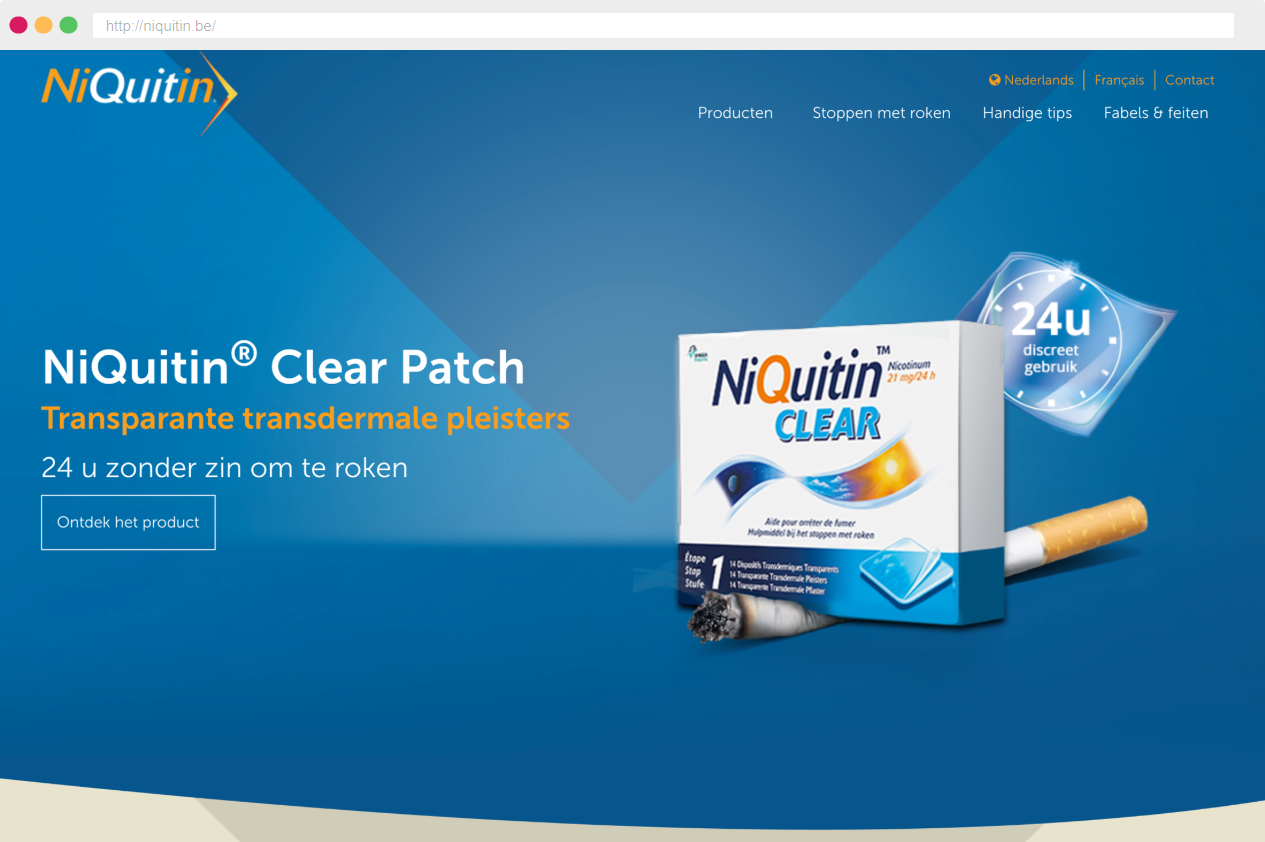 Vertrouwen en informatie

Elk product heeft zeer specifieke kenmerken en biedt ook nét iets andere oplossingen voor de consument. Per product was het ook nodig om deze informatie duidelijk te maken en de bijbehorende bijsluiter te uploaden, zodat gebruikers deze gemakkelijk konden bekijken. Elk product en productgroep heeft een eigen stappenplan per aantal weken dat je aan het stoppen bent.

Het doel van de site is vertrouwen creëren, mensen op de hoogte brengen van het product en veel voorkomende fabels tegenspreken.
Controle met een custom adminpaneel


Voor deze opdrachtgever hebben we een zeer gebruiksvriendelijk adminpaneel voorzien waar Omega Pharma alle content zelf kan beheren. Zo kunnen ook nieuwe producten toegevoegd worden, want de markt evolueert continu.

We zorgden voor een compleet webpakket voor Omega Pharma:

Meertaligheid met een minimum aan inspanning via een handig admin panel.

Ons team maakt ook graag voor jou een website waarin je zelf kunt werken.
A casestudy of your project here?
Let us know if you're interested in our services and we will contact you as soon as possible. Maybe one day your project can be found here!
Let's get digital!
Contact us for an appointment. We want to help you and show you the endless possibilities that this world has to offer.